Welcome!
The C&O Canal 100 mile race takes places on the scenic C&O Canal each year during the final weekend in April. The race starts and finishes at Camp Manidokan near Knoxville, Maryland.
The C&O Canal 100 course is almost entirely flat and offers plenty of opportunities for success both with new 100 mile runners and old veterans who are up for a challenge on a beautiful course.
The 2017 event will be held on April 29-30, 2017.
Changes for 2016
ENTRY LIMIT - We are increasing the entry limit to 175 runners. We feel this will allow us to accommodate more runners at the event without sacrificing the great volunteer and support atmosphere that we know runners love.
REGISTRATION/DEFERRALS - We will be getting rid of the tiered registration system this year and instead be going with one flat $95 entry fee so runners won't have to be pressured to registering many months in advance. As a result, we will no longer be offering deferrals. Deferred runners from 2015 can send an email (cocanal100[at]gmail.com) once registration opens to get your deferral code.
PRE/POST-RACE FARE - We'll be bringing back the wonderful pre-race pasta dinner in 2016, and also we will have a food vendor (TBD) offering food after the event. You will need to buy meal tickets for these items during registration. Make sure you buy one meal ticket for each person attending (family, friends, etc.).
PREMIUMS - We will once again be doing the Patagonia Houdini premiums for optional purchase during registration. Unlike past years we will be simplifying the color scheme with one generic color for men and another for women to avoid issues with having dozens of different types of jackets to sort through and hand out race morning. These colors have yet to be determined (the 2016 Houdini line is not out yet), but they will be some fairly neutral color (blue, black or green).
DROP BAG - We will be enforcing a new strict drop-bag policy in 2016. In the past we've been pretty generous with the drop bag restrictions, however last year many folks had drop bags large enough for a month vacation... ALL drop bags in 2016 will need to follow WS100 dimensions (6″x8″x16″) or be smaller. If your drop bag is larger, we won't accept it. Victory Sportsdesign has generously offered a 15% off discount to buy their drop bags for all entrants, or you can make your own that conforms to the dimensions.
2015 Event
The 2015 was on April 25-26.

Changes for 2015
The course will remain unchanged from last year (2014).
We will again be holding a pre-race dinner, but to have a better idea of hoe many people to expect you will be asked to pay at registration rather than at the door..

Race premiums in the form of Patagonia jackets will make a return this year. The price has increased since last year to account for increased in the printing of the race logo on the jacket.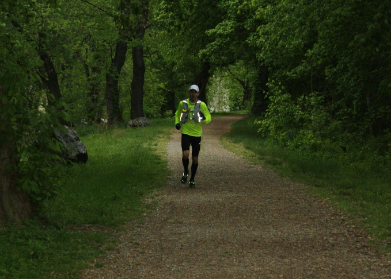 Race News

7/30/16 - The 2017 Race will be held on April 29-30, 2017. Registration will open on December 15th, 2016. We hope to see you there!!

5/4/16 - The 2016 race is in the books! Results, videos, blogs, and pictures will be posted on the 2016 official results page. We hope to see you all again next year!
4/10/16 - The 2016 Runner Information Packet has ben uploaded to the website. Check the general information tab to download it!
4/10/16 - The find a pacer page has been updated, please help these folks find a runner/pacer!
2/15/16 - The first pre-race email has been sent out. Check the official emails page for details.
1/29/16 - There will be an official training run on April 3rd, 2016! See the General Information page for details.

11/25/15 - Registration has been pushed back to December 17st, 2015 on Ultrasignup.
6/15/15 - The 2016 event will be held on April 30th - May 1st, 2016.

Sponsors