Welcome!
The C&O Canal 100 mile race takes places on the scenic C&O Canal each year during the final weekend in April. The race starts and finishes at Camp Manidokan near Knoxville, Maryland.
The C&O Canal 100 course is almost entirely flat and offers plenty of opportunities for success both with new 100 mile runners and old veterans who are up for a challenge on a beautiful course.
The 2014 race was held on April 26-27, 2014. The 2015 event will be held on April 25th-26th, 2015.

2015 Event
The 2015 even will be held on April 25-26. Registration will open up on December 1st, 2015. Entry will be limited to 150 runners and a waitlist will be kept if necessary. Please check back on the registration page as December draws near.

Changes
The course will remain unchanged from last year (2014).
We will again be holding a pre-race dinner, but to have a better idea of hoe many people to expect you will be asked to pay at registration rather than at the door..

Race premiums in the form of Patagonia jackets will make a return this year, however this will be the last year we will offer Patagonia jackets. The price has increased since last year to account for increased in the printing of the race logo on the jacket.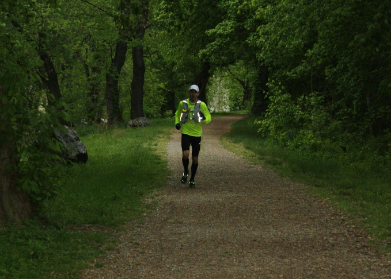 Race News
2/10/15 - We've sent out an official email to all entrants. Check the official emails page to make sure you haven't missed out on anything.

1/29/15 - Note our drink and gel sponsors for the 2015 race are Tailwind Nutrition and VFuel. More information can be found on the aid stations page.

11/20/14 - Registration will open on December 1st, 2014. Ultrasignup has been updated.
4/28/14 - The 2015 even will be held on April 25-26. Registration will once again open on December 1st, 2015.

4/28/14 - The 2014 event is in the books, so check out the 2014 Results Page to see a the list of finishers as well as photos and race reports from the weekend. We intent to keep the race going next year so mark your calendar again for the last weekend in April if you want to join us!

4/16/14 - An updated race packet has been posted containing additional information on bathrooms, camping, pre-race dinner details, and some other minor corrections. The changes have been highlighted in email #2 to all entrants which can be found on the emails page. Bib number have also been updated for all participants on the ultrasignup entrants list.

4/8/14 - The race website has been added to the general information page and the first official email has been posted. If any further changes are made to the race packet we will note them here.

1/27/14 - A reminder to those who are still considering signing up: the registration fee will increase to $95 on February first. Additionally, if you want to buy a jacket when you register you will need to do register before February 23rd so we can place the order and have them printed in time. The entrant list currently stands at 104 runners.

11/30/13 - The maps, aid station information page, and course description have all been updated for the 2014 race.

9/11/13 - The race website has been overhauled to reflect new information for the 2014 event. Registration will open on December 1st, 2013. The course is being re-measured and the final new maps and mileages will be updated prior to the start of registration for 2014. If you have any questions please use the Contact Us page.
7/6/13 - The 2014 C&O Canal 100 will be held on April 26th-27th, with the race starting at 7AM on Saturday. Registration will open on December 1st, 2013. Stay tuned here as developments continue in the planning.
Sponsors